Jim Thorpe Borough is the county seat of Carbon County with a population of 4,781 people. Referred to as the "Switzerland of America" because of its picturesque scenery and mountainous location and architecture, Jim Thorpe is a popular tourist attraction and also the "Gateway to the Poconos."
Founded as Mauch Chunk in 1818, its name was derived from the term "bear mountain" as its local mountain resembled a sleeping bear. The town was founded by Josiah White, founder of the Lehigh Coal & Navigation Company, and it rapidly became a railroad and coal-shipping center. It was later renamed for renowned athlete and Olympic Medal winner, Jim Thorpe, after his death in 1953.
Plan Your Visit
Jim Thorpe is home to various small businesses, quaint shoppes, fabulous restaurants, historical landmarks and other tourist attractions like the Jim Thorpe Memorial, the Harry Packer Mansion, the Asa Packer Mansion, the Mauch Chunk Train Station and the Mauch Chunk Museum, just to name a few.
There is plenty of fun in store for you in Jim Thorpe, PA! Check out the Quick Links below for town information, hot deals, events and more!
WBRE's PA Live! On the Road- Jim Thorpe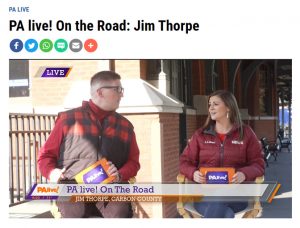 Join WBRE PA Live!'s Haley Bianco and Chris Bohinski for their inaugural monthly series, "PALive! On the Road." This month, Haley and Chris bring us the sights, special attractions, people and history of Jim Thorpe. Tune in by clicking on the links below to watch these fun and exciting video segments...
Experience the Magic of the Holidays
Stroll our historic downtown and experience the Victorian beauty and architecture that dates back to the early 1800s! Check out the many local restaurants and their holiday specials. Shop for your holiday gifts and take advantage of the great sales in the local shops and boutiques!
During the holiday season, the Jim Thorpe Tourism Agency will continue to highlight and advertising our local merchants and restaurants' holiday specials and sales. Due to COVID-19, there will be no organized events this holiday season. Specifically, there will be no tree lighting ceremony or Cookies & Cocktails event.
Our town square will still be beautifully decorated with a tree!
CLICK HERE for Holiday Train Information
Safety is our primary concern and so we strongly encourage visitors and residents to practice the necessary safety precautions identified by the CDC and PA Department of Health. Masks are required whenever you are unable to keep 6' distance between others. Follow the specific requirements posted by individual merchants and restaurants. Wash your hands and use hand sanitizer frequently.
Jim Thorpe Quick Links

You can also feel free to contact or visit the Pocono Mountains Visitors Bureau's Visitors Center at the Old Mauch Chunk Train Station for more information:
2 Susquehanna Street, Jim Thorpe, PA 18229 | Call: 570-325-3673
Hours: Sunday to Saturday 9:30am to 5:30pm
Still want to know more about Jim Thorpe? Visit their official Jim Thorpe website for additional information about this charming and fun, historic town.
Plan your visit to Jim Thorpe, Pennsylvania by searching our Jim Thorpe Business Directory below to find local businesses, restaurants, quaint shoppes, entertainment & historical attractions, accommodations and more!